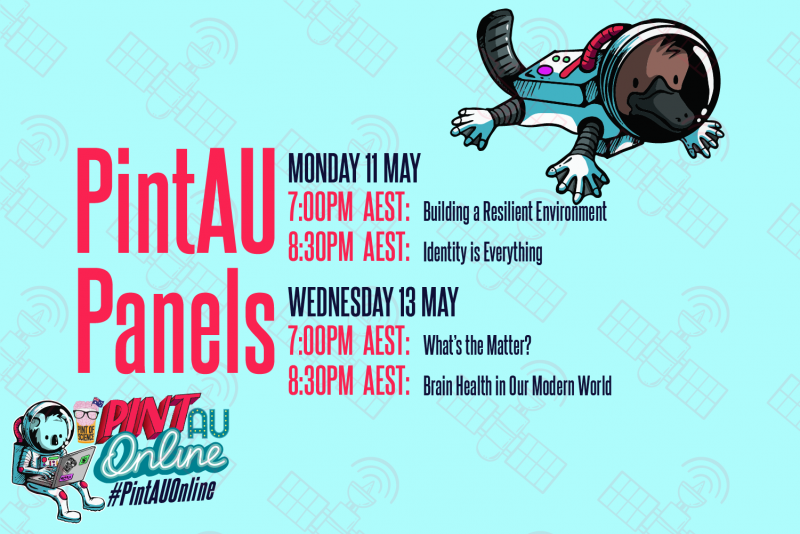 Get your Pint of Science fix from the comfort of home! This year, we've moved the talks you know and love online, so you can watch the speakers from the pub you've been to most this year: your living room. Join us for four moderated panel discussions where we'll hear from researchers across the country. Topics range from immunology to astrophysics to psychology to climate change!
Panel Discussion Program
Each event will feature three speakers and a live question and answer session with you.
How do I participate?
The event will run on YouTube Live, so you can watch from wherever you're practicing social distancing without needing to sign in.
To submit a question via YouTube during the livestream, you will need to be signed into a Google account.
Do I need a ticket?
You don't need a ticket, you'll just need a link!
We'd love you to register your intent to watch along by 'buying' a free ticket by clicking on the above links. If you do that, we'll send you a reminder of the panel time and the link to your inbox the day before the event. If you're on Facebook, register at the relevant Facebook event.
But I am ok to donate the cost of a ticket ... can I?
Yes! We appreciate all donations large and small to help cover our running costs. You can make a donation while registering your ticket above, or head over to our online store where you can grab a hold of some of our merch.
Thanks so much for your continued support as we mix it up in 2020!