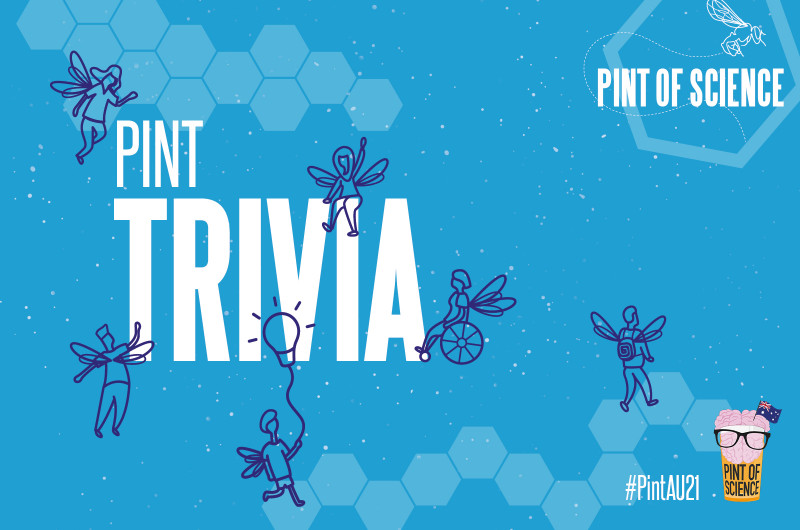 Pint Trivia - where teams battle it out over science knowledge for ultimate bragging rights.
Like last year, this event is an online, iso-friendly, pub-less pub trivia where you can flex your brain muscles from the comfort of your own couch (or perhaps even someone else's).
Play as an individual, a household, or gather a bunch of friends to catch up and compete. Last year, we saw some online collaborations between friends and family members in different states. You could even get a team together at your local pub (restrictions permitting). We don't mind - just make sure you register!
Keep an eye on our social channels. There's a daily question during the lead-up to the festival to get your brain juices flowing. Answering all the Pint Challenge questions right may even give you a subtle advantage in the main Trivia event ...
Hosted by two science superstars, Pint of Science Trivia will cover all six Pint of Science themes - Atoms to Galaxies, Planet Earth, Our Body, Beautiful Mind, Tech Me Out and Our Society - across three rounds.
What's happening when
The event is being held Wednesday 19th May
Stream starts: 6:45 PM AEST | 6:15 PM ACST | 4:45 PM AWST
Trivia starts: 7:00 PM AEST | 6:30 PM ACST | 5:00 PM AWST
Event ends: 8:30 PM AEST | 8:00 PM ACST | 6:30 PM AWST
Getting involved
Teams must register with a standard ticket to be placed on the official leaderboard and to be in the running for an amazing Pint of Science merch prize pack.
The cost per team for #PintAU21 is $21. This entry price only needs to be paid once per team, and there is no limit to the number of participants per team.
Registered teams will receive an email reminder close to the date with a link to the live stream so you can check your setup and make sure you have a stable internet connection, then it's game on!

Make sure you subscribe to our YouTube channel and follow us on Twitter, Instagram and Facebook for all #PintAU21 updates.
Want more?
Not enough to quench your trivia thirst? Then check out The Big Pint Show, held one week later.
New to 2021, we challenge the experts with brain-twisting science trivia - think Spicks and Specks on Science! But they're not the only ones who get the fun - registered teams can also compete.
Back to the full program of events