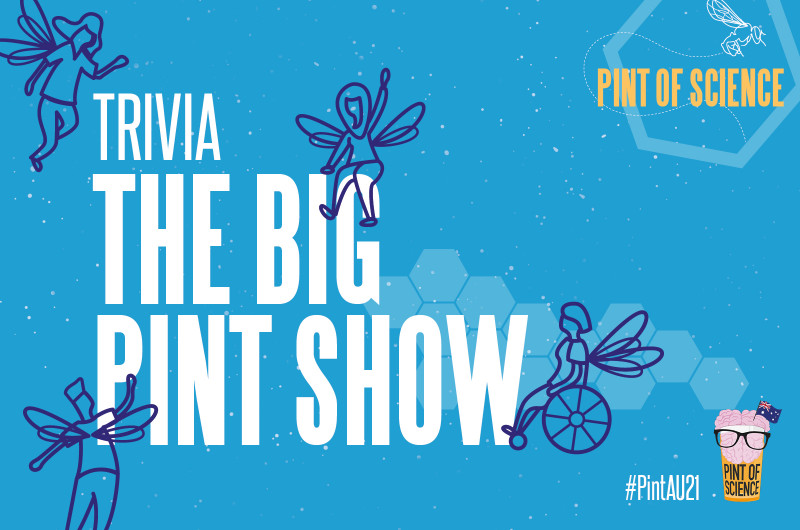 Kati Thanda (Lake Eyre) is Australia's largest lake. If it has a volume of 30 cubic kilometres of water, how many pint glasses would it take to empty it? HINT: Lake Eyre is in South Australia ...

Statistically, are there better numbers to pick when playing the lottery?
How many elements from the periodic table have symbols not derived from the English name for the element. Bonus points for listing them all.
From wacky calculations to out of the box thought provokers, we're going to get you and three teams of science pro's to flex your problem solving skills to the max.
Introducing The Big Pint Show - a brand new pint-size trivia segment designed to peek into how some of Australia's most science-y minds think. Co-hosted by some stunning guests, this segment will feature three teams of researchers from across Australia testing their mental muscles on all kinds of science questions and brain teasers.
Sparked your interest? You can join in at home to get those synapses firing. Register to play and we'll send you the questions a week in advance, giving you plenty of time to think them through. Answers submitted before the show will then be tallied and could even be featured on the show. There are prizes to be won and maybe even live crosses to your team for insight into how you got your answers.
What's happening when
The live event will stream on Wednesday 26th May on YouTube
Stream starts: 6:45 PM AEST / 6:15 PM ACST / 4:45 PM AWST
Trivia starts: 7:00 PM AEST / 6:30 PM ACST / 5:00 PM AWST
Event ends: 8:30 PM AEST / 8:00 PM ACST / 6:30 PM AWST
Just like our trivia show, we'll be covering all six Pint of Science themes across three rounds. Themes include Atoms to Galaxies, Planet Earth, Our Body, Beautiful Mind, Tech Me Out and Our Society.
Those registered to play along at home will receive their question pack on the evening of Wednesday 19 May - one week before the big event.
Don't worry - any teams registering after this will be sent the questions on the same day they register. Just remember, the deadline for submission of answers is the day before the Show Tuesday 25th, 5:00 PM AEST / 4:30 PM ACST / 3:00 PM AWST.
This gives us plenty of time to mark your answers. Also please make sure you use the same email address you registered with to submit your answers so we can keep track of different teams.
Getting involved
Register now to play along and you'll receive the questions on Wednesday 19 May. In the week leading up to the event, use your problem solving noggins to crack the codes and submit your answers before the show to be in the running for a unique Pint Merch prize pack. Then sit back, relax, and compare your answers with how our researcher teams go.

Make sure you subscribe to our YouTube channel and follow us on Twitter, Instagram and Facebook for all #PintAU21 updates.
I want more
If you're after a more traditional trivia experience, check out Pint Trivia running on the 19th of May, where you can register a team and battle it out with other trivia fans.
Who's on my screen?
The show will be presented by two science superstars Cale Matthews and Catriona Nguyen-Robertson.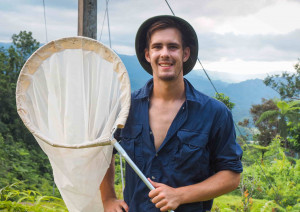 Cale completed his Honours in 2018, researching the evolution of Fijian Homalictus bees, before diverging into the world of Science Communication. He now works as a reporter for Behind The News, Australia's nationally broadcast news program for kids!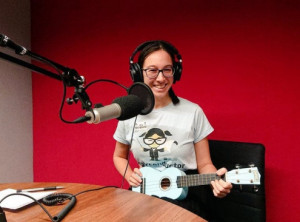 Catriona Nguyen-Robertson is a singing scientist: she sings in the laboratory and dreams up immunology experiments in the shower. She is an immunologist at Peter Doherty Institute for Infection and Immunity, an advocate for diversity in STEM, and an avid science communicator and teacher.
We have 3 teams of science superstars from across Australia lined up for you.
Team 1
Professor John Howieson (Planet Earth, WA)

Doctor Joseph Carpini (Beautiful Mind, WA)

PhD candidate Shasta Henry (Planet Earth, TAS)
Team 2
Professor Neil O'Brien-Simpson (Our Body, VIC)

Doctor Dwan Price (Our Body, VIC)

PhD candidate Shehzad Hathi (Atoms to Galaxies, NSW)
Team 3
Associate Professor Lauren Ball (Our Body, QLD)

Doctor Renee Bartolo (Tech Me Out, NT)

Doctor Yassine Souilmi (Our Body, SA)
Back to the full program of events