In the next instalment of our highlight series for our 10 year anniversary, we had a chat to Tim Gibbons, the Director of Operations for Pint of Science Australia!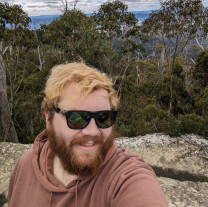 Timothy Gibbons
Director of Operations
What do you do for Pint of Science? 
I'm the Director of Operations, so I help keep Pint of Science Australia running behind the scenes! I look after the recruitment of volunteers, coordinating the various events we host, support our volunteers, edit the website, supervise the Festival Operations, IT and Merchandise teams and provide operational support and advice to the leadership team. I even MC events sometimes!
What does success look like in your Pint of Science Role?
Successful events, volunteers gaining meaningful experience in science communication and a great festival! I look after a large portfolio, so seeing my teams work well with each other and engage in impactful science communication is all I could ask for!

Why PoS over other volunteer organisations? 
There are lots of programs and institutions that focus on students, but the adult audience often misses out. Not everyone is a scientist, and not everyone has access to facilities or resources to engage with science. I find that Pint of Science Australia really shines in its ability to reach adult audiences around the country and provide those little snippets of science that engage and inspire. We're all scientists at heart!
2024 is the 10-year anniversary of PoS in Australia. What are you planning to do to make next year's festival special?
I want the 2024 festival to celebrate where we have come from and where we are heading for Pint of Science Australia! Collaborations with previous artists and speakers, celebrations of milestones and expanding the festival into new and uncharted areas. It would be a brilliant way to celebrate 10 years by seeing Pint of Science Australia reaching across the country and highlighting science in as many places as possible.
What do you do as a day job?  
A few different things! I work in educational outreach in one of my roles, so I bring students into a university to see what studying could be like and inspire them to pursue the sciences. Outside of this I do a lot of freelance Science Communication and event management, including working for Beaker Street and Science in the Pub Tasmania. I also teach science classes to homeschool students when I have the time!

In three "dot points", describe yourself? 
Passionate – I'm always looking to make a difference and get involved in as many aspects of science outreach as I can.
Adaptable – I'm willing to try new approaches and tackle problems in an unconventional way, to work around problems and find new solutions
Sociable – I love having a good time and keeping work light-hearted whenever possible. It's great to have fun whilst pursuing goals with like-minded people!