Our next instalment of our highlight series for our 10 year anniversary is here! We had a chat to Abbi Scott, a long time volunteer for Pint of Science Australia in multiple roles!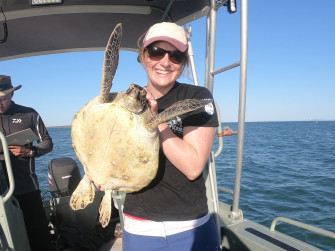 Abbi Scott
Cairns City Coordinator
What do you do for Pint of Science? 
I'm the city coordinator for the Cairns Pint of Science events, I organise and promote the local events here, I usually MC a night or two, and this year I even gave a talk about my own research. I've been running Pint of Science in Cairns since I signed up as a volunteer in 2018 hoping to help the Cairns team, but realised I was the first volunteer to register here…. so I became the city coordinator and started Pint of Science in Cairns!
What does success look like in your Pint of Science Role?
A Pint of Science festival in Cairns with sold out tickets and an engaged and interested audience having a great time listening to awesome local scientists!
Why PoS over other volunteer organisations? 
I'm originally from the UK and I used to attend Pint of Science back home before I moved to Australia, since then I've loved the Pint events - I think they are such a fantastic way to communicate science in a fun and relaxed environment. It's great to be able to bring some of the most innovative and interesting scientists into the pub to connect with the local community and find out more about their work.
2024 is the 10-year anniversary of Pint of Science in Australia. What are you planning to do to make next year's festival special?
I'm always looking to make the Cairns events bigger and better each year, so celebrating the 10-year anniversary seems like another great reason to keep doing this. I guess you'll have to come to the Cairns events to find out exactly what we have in store...
What do you do as a day job?  
I'm a researcher at James Cook University in Cairns, I study seagrass habitats on the Great Barrier Reef and I also coordinate the Cairns-Port Douglas Reef Hub where I work with local partners and Traditional Owners on reef stewardship projects. I'm passionate about working with local communities on research that can be used to help manage marine habitats in the Great Barrier Reef - you might find me out in a helicopter, on a boat, under the water, or (mostly) sitting behind my desk.
In three "dot points", describe yourself? 
- Seagrass nerd
- Rockpool lover
- Scicomm enthusiast
Want to volunteer for your local city? Fill out our EOI today!