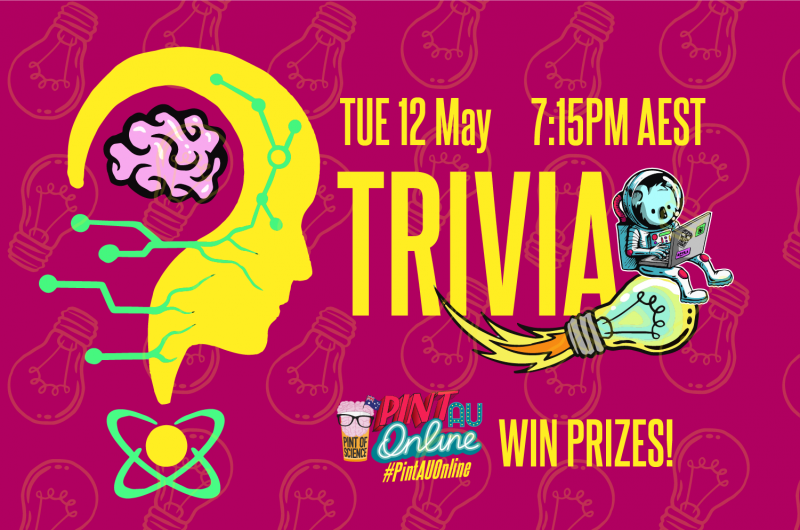 A common feature in our Aussie Pint of Science events is a mid-event trivia, and this year will be no exception. We've been working hard to bring you an online, iso-friendly, science-packed, pub-less pub trivia. Time to exercise those brain muscles and show off all the random science facts you learned while social distancing. Play as an individual, household, or virtually gather your pub-friends to catch up and compete.
We'll be covering all six Pint of Science themes across three rounds:
Round 1 - Atoms to Galaxies & Planet Earth
Round 2 - Our Body & Beautiful Mind
Round 3 - Tech Me Out & Our Society
Oh - and we've got two awesome hosts ... Dr Andy Stapleton and Dr Emma Beckett. We hope you'll join us for some fun.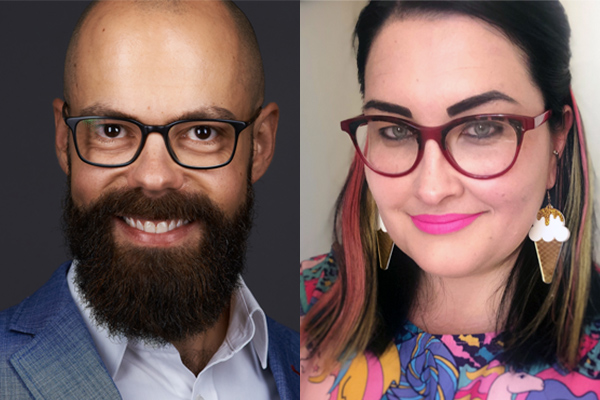 Some housekeeping...
| | |
| --- | --- |
| Date | 12 May 2020 |
| Stream starts | 7:15 PM AEST (GMT+10) |
| Trivia starts | 7:30 PM AEST (GMT+10) |
| Event ends | 9:00 PM AEST (GMT+10) |
The event will run on Youtube Live - here's the link.
So keen, how do I join? Do I need to pay?
To be placed in the official leaderboard a.k.a PintAUOnline Trivia Hall of Fame AND be in the running for some sick Pint of Science merch you'll need to register over here. The $5 ticket only needs to be paid once per team (no limit to participants per team) and goes toward covering some of the extra expenses we've incurred this year.
Don't worry, even if you don't buy a ticket, you can still play along ... although you won't be eligible for a prize.
Okay so, how is this going to work?
For everyone with a ticket, we'll send you an email reminder with a link to the live stream so you can check your setup, and make sure you have a stable internet connection.
If you're teaming up with friends in other households, make sure you decide on how you will communicate with each other on the day (i.e. Zoom, House party, traditional phone, smoke signal). You'll be given an opportunity to come up with the coolest team name (or if you're solo you can choose your stage name) before we start the trivia on the answer sheet. Keep note of this as it will be your unique identifier for the leaderboard.
The trivia will be divided into 3 rounds, each round will have their own answer sheets which will be available on the trivia homepage on our website. These will be released on the day of the event.
There will be a short break between rounds - for you to do a quick stretch, toilet/food break and for us to do our live scoring magic so you'll be able to see your points before the new round starts.
We'll be giving out prizes for first place, second place and second last. Prizes may include official Pint of Science merch or even free tickets to our 2021 festival.
What are you waiting for? Register now! We look forward to virtually meeting you all soon.