Genetic Detective
Dr Erin Hahn

with

Dr Ruvi Lecamwasam

How did genetic analysis on old museum samples help save an endangered species?

In the beautiful Australian National Botanic Gardens we caught up with Dr Erin Hahn, who does genetic detective work at CSIRO. Erin extracts information from the genome of old museum specimens, so we can apply modern-day analysis to long-dead species.

We chat about Erin's path into science, how she helped save the endangered Sonoran pronghorn, and what rookie errors to avoid when working with museum curators! How do you extract DNA from a formalin-preserved frog? What are the challenges, and victories, that a geneticist faces every day? And how does a scientist get good at asking questions? Join us and find out!

~~

Erin received her PhD in Genomics from the University of Arizona in 2016, picking up a National Science Foundation traineeship and two daughters during her studies. She is currently a Postdoctoral Fellow at CSIRO and was recently selected as a Superstar of STEM.

You can find out more about Erin at her website, and follow her on Twitter (@erin_e_hahn).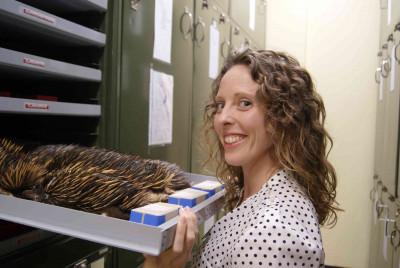 ~~
Transcript
Coming soon