Art & Robotics
Associate Professor Damith Herath with Dr Ruvi Lecamwasam
What would it take for a robot to be as easy to use as an iPhone? Maybe an artist!
We caught up with Damith Herath, Associate Professor of Robotics and Art at the University of Canberra, for a Mug of Science in his laboratory. There we discuss his work helping robots and humans to work side by side. This requires crossing a wide range of disciplines, and Damith talks about how bringing together very different people leads to new breakthroughs, and unexpected challenges.
Join us as we chat about what researchers can learn from working with artists, how psychologists are behind the modern cell phone, and 'Twiki the robot', Damith's childhood creation!
~~
Dr Damith Herath is an Associate Professor in Robotics and Art. He is a multi-award winning entrepreneur and a roboticist with extensive experience in leading multidisciplinary research teams in robotics. His research focuses on both technical and social aspects of robotics.
You can find out more about Damith at his website, and follow him on Twitter (@damith).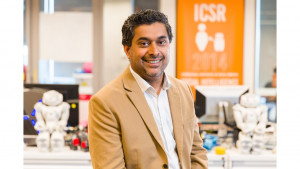 ~~
Transcript
coming soon