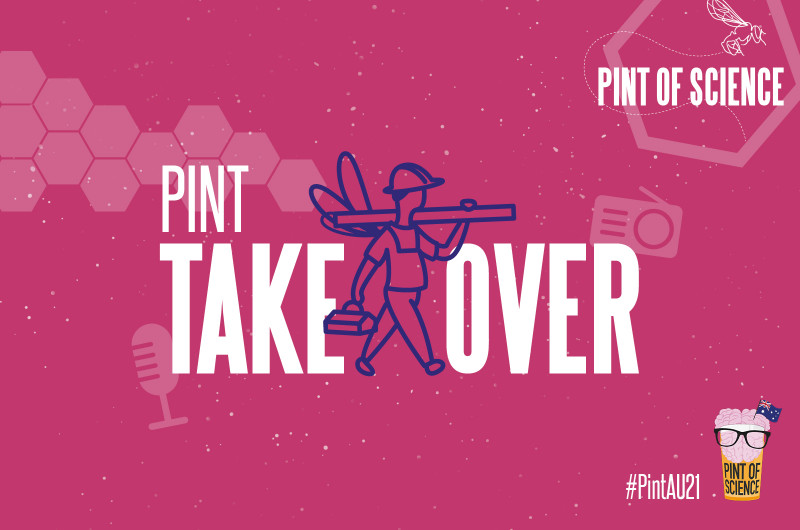 Pint of Science is coming at you from across the airwaves! So connect your headphones, grab your cat (or favourite furry friend), and get comfy as our scientists bring you the latest from across Australia.
For the last few years, we've partnered with podcasters and radio presenters to record unique Pint of Science interviews throughout the month of May. From the comfort of your home, office, or daily commute, you can tune in to hear the latest in scientific research.
What's happening when?
When
Radio or Podcast
Presenters
Topics
6 May 2021,
10:30-11:00 am

ABC Far North Queensland with Abbi Scott

Emily Webster

Tracking sea turtles from space

9 May 2021, 9-10am

Radio Marinara with Peter Beech and Bron Burton

Chanel Egan, Amy Mac Intosh and Indrani Mukherjee

Pint of Science 2021, fate of radioactive contaminants in subsea pipelines and what "fools gold" tells us about the ancient ocean

9 May 2021,
11-12 pm

Einstein A Go-Go with Shane Huntington
Sven Ouzman, Sophia Garlick Bock and Shauni Omond
Dating Aboriginal rock art, mental health in young people and sleep mechanisms in flatworms

12 May 2021

STEMology

Hugh Goold

World's first synthetic eukaryotes

13 May 2021, 5pm

Roundabout on 3MDR with Graham Beal

Emily McColl-Gausden

Environmental DNA sampling to find platypus

14 May 2021

The Skeptic Zone

Sat Dushy

Communication on COVID-19 vaccine conspiracies.

16 May 2021

That's what I call science with Niahm Chapman

Jordi Nelis

Smartphone-based devices for allergen detection

17 May 2021, 12pm

Curiosity Killed The Rat with Kate Huckstep

Millie Scicluna, Brooke Farrugia, Amanda Krause

Carnivourous marsupials, wound healing sugar polymers and how music has helped is cope with COVID-19

18 May 2021

Fuzzy Logic with Broderick Matthews

Damith Herath and Keira Bai

Robots can interact and work with humans and micro-expression recognition to assist in depression detection by artificial intelligence

19 May 2021
The Random Sample with Tim Macuga

Tim Gibbons, Karen Lamb and Florence Gabriel

Pint of Science 2021, Risking your life for a deep fried Mars bar and mathematics anxiety

20 May 2021
Branch Out with Rose Kerr

Andrea Westerband

Risk-taking and cost-savings in plants: bringing together ecology and economics

22 May 2021

Animalia

Amanda Franklin

Does looking in a mirror improve the camouflage of an animal

23 May 2021

Shirtloads of Science with Dr Karl

Sage Fitzgerald

Discovery of new coral species

24 May 2021

Bird Emergency with Grant Williams

Elodie Camprasse

Subantarctic fieldwork and seabird research

25 May 2021

Bird Emergency with Grant Williams

Toby Ross

Pollutants in shorebirds

26 May 2021

Bird Emergency with Grant Williams

Alona Charuvi
Human-wildlife conflicts with masked lapwings
26 May 2021

Animalia

Justin Maire

Symbiotic associations between corals and bacteria

26 May 2021
Because Language with Daniel Midgley and Hedvig Skirgård

Georgia Dempster, Emma Schimke, Dr Kirsten Ellis

The influence of sleep on learning and challenging the traditional expectations of who can make technology

27 May 2021

Bird Emergency with Grant Williams

Ettore Camerlenghi
Social systems in fairy wrens
27 May 2021

Roundabout on 3MDR with Graham Beal

Rachael Dudaniec

Insects as sentinals of climate change

31 May 2021

Curiosity Killed The Rat with Kate Huckstep

Chayan Chatterjee
Gravitational waves

11 June 2021

Avid Podcast with Amelia

Luke Whiley

Metabolic profiling
The full list of radio and podcast takeovers will be available shortly on the Pint Takeover page.
Make sure you subscribe to our YouTube channel and follow us on Twitter, Instagram and Facebook for all #PintAU21 updates.
Getting involved
We'll do our best to share a link to an audio clip where we can, but some radio stations require you to listen live.
Back to the full program of events