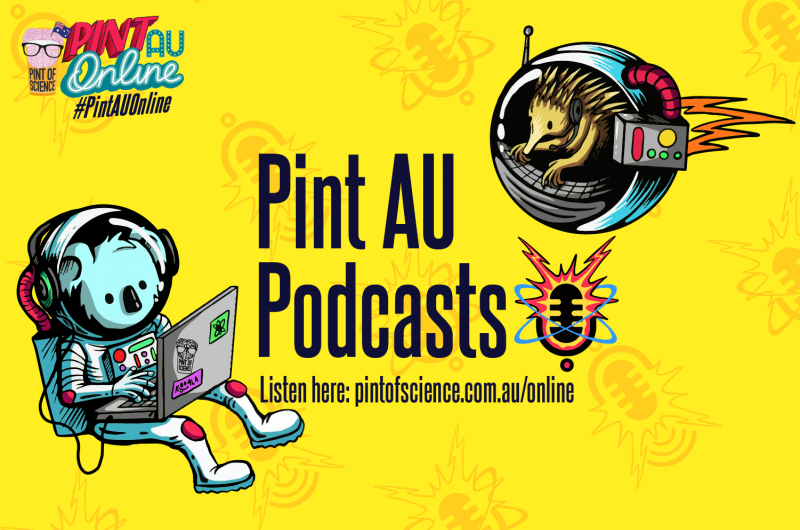 We're sending Pint of Science out across the airwaves and present our researchers via podcasts.
From the safety of their homes, our scientists bring their science to yours. Our podcaster and radio friends will be interviewing our scientists through the month of May and for the first time in Australia, Pint of Science will have our own podcast series, Pod of Science. Get your headphones, grab your cat and snuggle up with the blankets as we discover more about what's going on around us.
Pod of Science
Over 11-13 May, we'll be launching our first podcast series with three back-to-back episodes interviewing our Pint of Science speakers. Find out about these amazing researchers with Camille Thomson, as she tackles the big and small questions, and finds out what scientists are up to these days.

You will soon be able to hear the podcasts here, and make sure to follow our social channels to learn when the latest episodes become available.

Camille Thomson
Pod of Science - Episode 1 with Dr Will Gee
Pod of Science - Episode 2 with Michelle Clark
Pod of Science - Episode 3 with Dr Victoria Camilieri-Asch
Other podcasts and radio
For the last few years' festivals, we've reached out informally to podcasters and radio presenters to partner with us to either record our events live or interview our speakers. While we're not doing any live sessions, we're glad to announce that the following podcasts and radio stations have still invited Pint researchers to feature in their podcasts during the month of May. We will update a list here as the podcasts are confirmed. We'll also share them on our socials, so make sure you're following us (Facebook / Twitter / Instagram) to catch a Pint speaker this month.
Catch a dose of Pint on air at the following links:
Date
Podcast/Radio
Speaker
Episode description
3 May
Radio Marinara with Anthony Boxshall and Dr Beach
Dr Victoria Camilieri-Asch

Dr Victoria Camilieri-Asch, researcher at QLD University of Technology from sunny BrisVegas joins Anth and Dr Beach from Radio Marinara to discuss her research into how Sharks and Rays smell - and don't say "terrible...". She would have been doing a "Pint of Science" chat in a pub for the festival in May pre-COVID but instead she joins us live (maybe not with a beer in our hands)... Other guests include Dr Wing Chan from the University of Melbourne.

9 May at 10:30 AM AEST
Radio 2CC
Dr Erin Walsh
Tune into 2CC Canberra (1206 AM) to hear Dr Erin Walsh discuss how science illustrations can help communicate complex concepts, not only to the public, but to other researchers as well.
16 May
Dr Madeleine Hinwood

Henry Cotton had some interesting ideas about the causes of psychiatric disorders. The problem wasn't the ideas, it was the dogged pursuit of following them through...

17 May at 11:00 AM AEST
Radio 2XX FM Fuzzy Logic with Brod Mathews

Dr Erin Walsh & Dr Doris Grosse

Dr Erin Walsh talks about her work in scientific illustration and also her research around our brain and population health. Also on the program, Dr Doris Grosse tells how her work on adaptive optics help us to spot and then move space debris. After 12pm, the podcast will drop and will also be able to be found on iTunes.

Tune in to Canberra on 98.3FM or listen online at www.2xxfm.org.au.

23 May
Curiosity Killed the Rat with

Kate Huckstep & Matt Huckstep

Dr Luke Whiley

Curiosity Killed the Rat will be doing a series of talks featuring past and potential Pint of Science speakers, including Dr Luke Whiley on May 23 who featured in our Panels event on Brain Health. Episodes can be found here in the coming weeks.