Researchers team up with local communities in developing countries to conserve sharks and rays.
Studying sharks and rays with local help
Dive in for a glimpse into research in Southeast Asia that uses baited remote underwater video systems (BRUVS) to film sharks and rays. Hear how scientists and non-scientists, such as fishermen and divers, collaborate to make it happen.

Samantha Sherman is nearing the end of her PhD, studying the diversity, abundance, and distribution of rays in Southeast Asia and the Australasian region. Throughout her PhD she also worked as a research assistant for the Global FinPrint Project.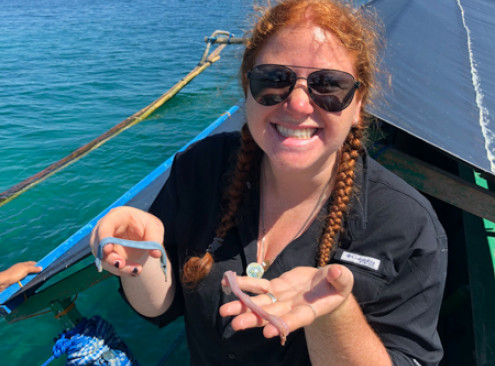 Coastal sharks in the Gulf of Papua
Ms Leontine Baje
(PhD student, James Cook University)
How much do you know about the biology and ecology of coastal sharks in the Gulf of Papua (PNG)? Want to know more? Tonight's the night! And you'll also find out why this research is important for fisheries management and conservation.

Leontine Baje has worked for PNG fisheries for 10 years. In 2015 she was awarded a John Allright Fellowship through the Australian Centre for International Agricultural Research (ACIAR) to do a masters by research at JCU., where she is currently a PhD candidate.