How do we save our sea turtles? Marine biologists share their research about turtles and plastic pollution.
Turtles vs. plastics: the phantom hazards
Daniel Gonzalez-Paredes
(Research coordinator (Karumbe NGO) / Founder and CEO (Plastic Free Turtles) / Phd student (JCU), Karumbe NGO / Plastic Free Turtles / James Cook University)
One of the main threats to have recently emerged in the oceans is plastic pollution. The increasing proliferation of plastics is having a devastating effect on marine turtles, so we urgently need to rethink and reduce our use of plastics.

Daniel Gonzalez-Paredes has over 10 years experience working for the conservation of marine turtles. He recently founded the coalition 'Plastic Free Turtles', uniting people and efforts around the world to fight against the impact of plastic pollution on turtles.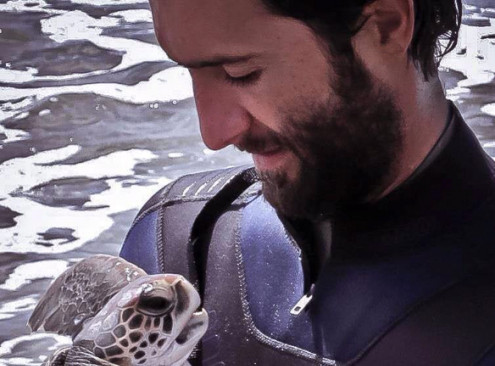 Measuring sea turtle health
Assessing the health of sea turtles in their natural environment is tricky. Fat is a good indicator of health in wildlife. What if we had a special, portable device for measuring fat content in sea turtles to help identify populations at risk? Well, we're working on it!

Sara Kophamel is a qualified vet who worked with exotic pets and wildlife in Spain and Germany before coming to Australia. She is currently a PhD candidate at James Cook University, interested in developing new methods for assessing the health of wildlife in its natural environment.