Leave it to a scientist to bring new metals to an antibiotic resistant fight. But could this be the solution to fighting superbugs? It's antibodies game. Come and find out!
How bacteria sweet talk rogue antibody
Antibodies. We know they defend us against infection, but what about the recently identified type of inhibitory antibody that actually protects bacteria from being killed by the host? Could this investigation lead to novel treatment strategies?

Josh Monteith is a recent Bachelor of Science graduate, and has commenced his PhD within Dr Timothy Wells' Lab at the University of Queensland. His project, still in its early months, aims to investigate host responses to bacterial infections in lung-transplant recipients.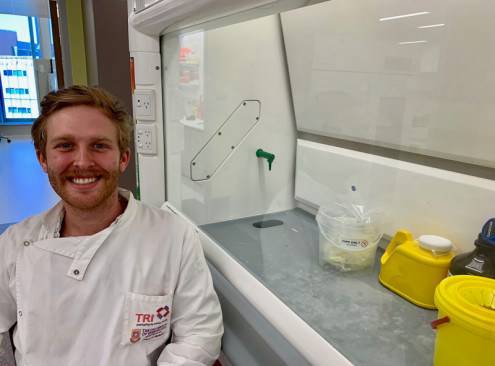 Using metals to fight antibiotic resistance
Dr Angelo Frei
(PostDoc, University of Queensland)
@angelo_frei
Did you know that the 200 most prescribed drugs use only 8% of the elements on the periodic table? Find out the reasons for this and why we should indeed look at the rest of the periodic table when thinking about new drugs.

Dr Frei began his career in Zurich, Switzerland, with a MSc in inorganic medicinal chemistry and a PhD in radiochemistry. He was recognised in 2016 with a New Zealand Institute of Chemistry ECR Lecture Award, and in 2018 took up a PostDoc position at UQ, researching novel metal-based antiobiotics.