Since 2018, Pint of Science Australia has directly engaged Australian artists to contribute to the festival's artwork. Through an artist-in-residence program, Pint of Science Australia seeks to engage artists to collaborate with scientists and to find ways of incorporating science into their artworks.
This is all a part of a broader support and dedication to cross-collaboration with the arts, which you can read more about in our strategic plan. Should you wish to support this artist-in-residence initiative, please get in touch with us.
2020 - Planet Bee by Phi Do
The 2020 Pint of Science Australia artists-in-residence is Phi Do with 'Planet Bee'.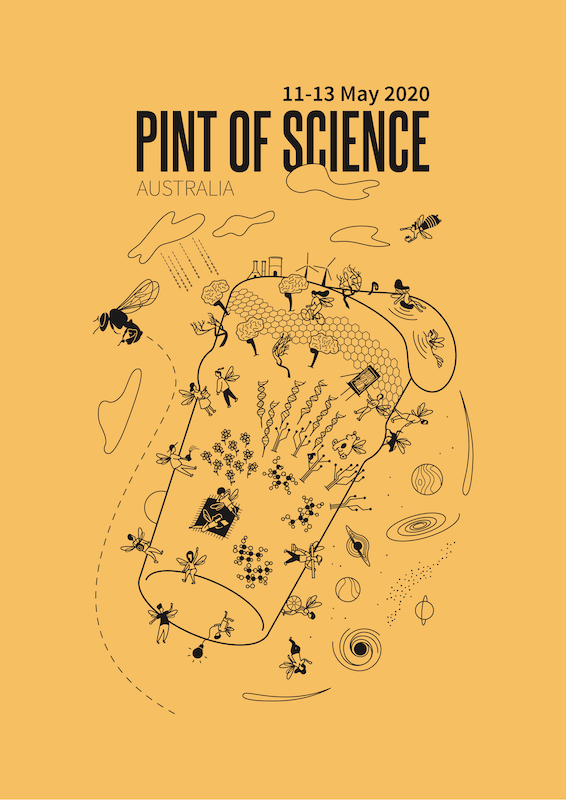 You will see Planet Bee turn up all through our promotions and graphics during 2020. Make sure to keep an eye out for the #PintAU20 pint glass that features this artwork over at our merchandise store.
Artist rationale
Inspired by Ban Ki-moon's quote, "There can be no Plan B because there is no planet B," my artwork Planet Bee is a playful and ironic response depicting a thriving sustainable world where people live in a vibrant community as 'bee-people'.
With approximately one-third of what we eat dependant on the pollination of bees, these little heroes are a vital part of our ecosystem. Sadly, bee populations are declining globally as they face a range of threats including industrial agriculture and climate change. So I wanted to celebrate the continual research efforts in Australia in promoting bee health and further understanding the ecology and behaviour of bees - not only the honey bee but also lesser-known Australian native bees. I chose the mascot to be the native Stingless Social Bee, to highlight the social aspect of Pint of Science. Other native bee-people scattered throughout the science-inspired landscape include the Carpenter Bee, Teddy Bear Bee and Blue-Banded Bee.
But ultimately, I wanted to show how bees can inspire us to be a better society. Social bees live in complex social structures and use their collective intelligence, and work harmoniously together, to ensure the greater good of their hive's survival. This is something I believe humans can learn from bees.
While there may not be a planet B, long live Planet Bee!
Artist biography
Phi Do, is a Melbourne-based, multidisciplinary designer and illustrator. As a graduate from Monash University with a Bachelor of Industrial Design and Mechanical Engineering, he is an expert in blending the world of analytical thinking with art and creativity.
Alongside his UX/UI work, Phi develops branding design for start-ups and nonprofits, does life-drawing, and creates quirky illustrations. As an active supporter of community festivals, Phi was the artist behind the 2018 Melbourne Queer Film Festival.
Whether digital, physical, spatial or visual, Phi is passionate about crafting beautiful and thought-provoking compositions that bring a sense of joy.
You can keep up to date with Phi's work by following him on Instagram (@feedingdough) or visiting phido.com.au.
Previous artists
The previous Pint of Science Australia artists-in-residence and their work can be seen at the below links
2019 - Octo by Miriam Slater
2018 - Full to the brim by Dan Power