Our Aussie animals are a big part of our national identity. What if we could manage the extinction of our furry friends? Don't miss a night of genome chat and the future of Australian mammals, and the amazing story of how one researcher has brought back one of our beloved marsupials.
A 'Quollity' Reintroduction
The Eastern Quoll, a spotty marsupial of the night, has been extinct on mainland Australia for 60 years. It's time we brought it back - but how? Come and hear the story of how we're returning these striking carnivores to Australia's capital.

Belinda Wilson is a conservation ecologist who researches the reintroduction of the eastern quoll. She also monitors flying-foxes (Australasian Bat Society), is an Outreach Officer (Woodlands and Wetlands Trust), and is a budding photographer.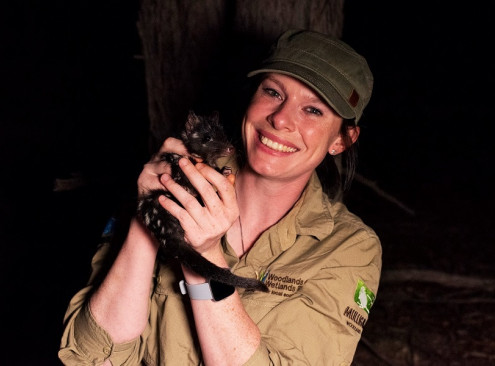 Australian mammals and their genomes
Australia has an incredibly diverse mammal fauna but also the highest rate of extinction in the world. Find out how DNA studies of these animals are providing insight into the evolution of their unique features, and impacting on management of these animals.

Prof. Janine Deakin completed her PhD in Biology at Macquarie University and has 20 years of research experience in the area of mammal genomics, including an ARC Future Fellowship to work on Tasmanian devil facial tumours.